With this update of my website, we have included a news section. It will inform about our activities as and when they occur.

The latest important event was Colleen and my visit to the Australian Museum in Sydney. We had recently donated some of the remaining Pre-War Balinese Modernist paintings to that museum. The museum's blog provides more detail on this visit.

The donation was made to free up time for other activities. Selecting the Australian Museum for this donation was made on the advice of Professor Adrian Vickers.. Adrian has long been a friend and advisor. His reasoning was that the Australian Museum already owns the Anthony Forge collection of Balinese paintings. This significant collection dates from the late 19th and early 20th century. The Pre-War Balinese Modernists are a welcome addition to the museum's Balinese painting collection, which has recently been expanded with new additions in the traditional area.

Another reason to make the donation to the Australian Museum is that Adrian Vickers heads a significant research program on Balinese Art and which includes a large database which will soon be on-line. With that it seems to me as if the centre of studies on Balinese art has moved from the Netherlands to Australia.

The production of a new book; the first 25 years of the New Zealand picture Postcard. 1897-1922 is well underway. The 500 or so cards for inclusion have already been acquired through own purchases, complimented by cards from other collectors and institutional collections. We aim to have this book published by the end of 2013.
Australian Museum Blogs
click to open
Adrian Vickers and Leo examining a Balinese carving from the 1930s at the Australian Museum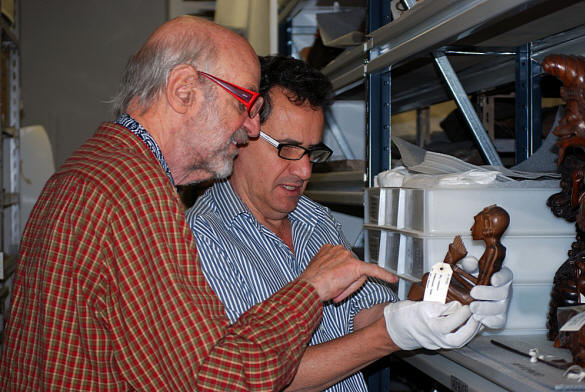 Colleen and Leo being shown an early Kamasan painting at the Australian Museum